March 18: Is Anybody Out There?
If you are a McNair Middle School student and you're checking these pages while school is closed, please let me know by sending me email: Bob.Brown@Kennesaw.edu and tell me what grade you're in; don't forget to copy Dr. Gafford-Hampton. If I hear from you, I'll keep updating this material. If not, I get a vacation! (But, I like you and I'd rather work with you by remote control than veg out, so write to me, OK?)
March 16: Hello, McNair Students!
About the only thing worse than being out of school when you're sick and can't do anything or go anywhere is being out of school when you're well, but you still can't do anything or go anywhere. I'll try to keep going through this web page. Remember, you can send email to me as long as you also copy Dr. Gafford-Hampton.
Professor Brown at McNair Middle School
I'm having a lot of fun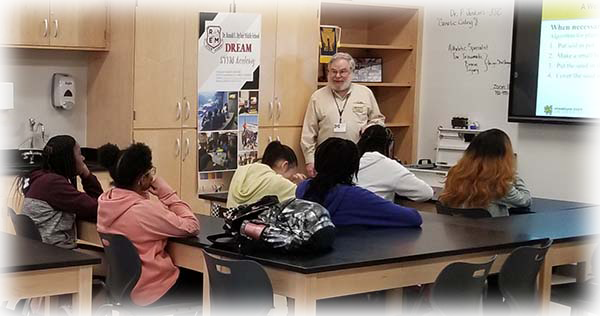 at McNair Middle School helping students in all three grades learn about computers, algorithms, and coding. I've put the material from all the classes here so that it's easy to go back to anything you'd like to check again. The slides are one per page. The links below are to PDF files. Google Chrome will open these for you automatically. Maybe you'd like to print two or more on each page to save paper and ink. Here's how. To do that, you'll need Adobe Reader. It's free, but be careful to un-check the boxes that will install bloatware on your computer. You will not need any of the extras.
For Everyone
Feb 10. Algorithms and Searching: Why algorithms are more important than code. Handout and slides. The Halting Problem "looks computable," but it isn't. Here's the proof: Scooping the Loop Snooper.
Eighth Grade
Want an overview of Python? Here's Python Jump Start.
Seventh Grade
Remember, you can use the simulator at home: https://makecode.microbit.org/
Sixth Grade